July 15, 2020 update.                                                                                                                                                          New highs on the Nasdaq! (thanks to the FAANG stocks). Yea! The more the current unemployment numbers go up along  with corporate bankruptcies from the Coronavirus and along with lowered GDP numbers, lowered corporate earnings and dividend cuts, the more the markets rally. The Fed has added $3 trillion to its balance sheet in the past 3 months – the same amount it added over the prior 11 years. Unfortunately, the deluge of Fed and Treasury money into the economy has been reflected in gains for the stock market and not gains for the US economy.
Forty years of a bond bull market has aided the stock market advance. The 10 year Treasury bond has gone from 15% in 1981 to 0.6% today (incredibly, well below the inflation rate) as the Federal Reserve has continually subsidized financial assets and high end real estate. Bond buyers today are locking in a long term loss. After this latest $3 tril addition, how much more fire power does the Fed have left? How much more debt does it want to pile on the American taxpayer to benefit the top 10% that own 85% of the stock market?
While the S&P and Dow Jones are still down for the year, gold has responded to the massive Fed printing by appreciating 28% this year.  Many gold stocks have rallied quite a bit more. Newmont (NEM), the largest gold mining company, is up 50% this year. Gold is the antidote to reckless Fed printing.
Don't get sucked in by the hopes of a quick recovery and the euphoria over a few appreciating stocks on the Nasdaq. Stock market valuations in relation to the GDP and corporate earnings are even higher now than they were in late 2019 when they reached historical extremes. See the charts and discussion for the data and warnings in the November, 2019 update below.
March 21, 2020 update.                                                                                                                                                            Well, here we are. A lot of long faces after not heeding the many overvaluation warnings (outlined below). The Dow Jones cracked 19,000 this week  settling at 18,993. We are down over 10,000 points in just five weeks from the all-time high of 29,550. I guess stocks don't go up forever. Welcome to the 34th bear market since 1900 and the 19th recession since the Federal Reserve opened its doors in 1913.
What to do now.                                                                                                                                                                        If you have safely collared your stock portfolio or have a hefty cash position, congratulations. Keep collecting your dividends and be patient. It is now a waiting game for the bear market to finish ravaging US stock prices. My target on the Dow Jones is 12,500- 15,000, the same 50% -58% reduction in prices as the last two recent bear markets. This prediction takes no skill. It is just history repeating itself. Any student of history can view the charts of the prior 34 bear markets and make an educated forecast. There will be another bull market commencing in a few years as sure as summer follows winter. This particular winter will be bitter because of the massive debt that has built up over the past 11 years (the longest bull market in US history) primarily from interest rates that have been suppressed by the Federal Reserve for long. It will take a long time to unravel. Credit contractions are the root of recessions.
The US is economically in the worst economic shape it has even been to fight this bear market and certain recession. Companies are overleveraged and the Fed has already lowered rates near zero just to support the stock market.  The stock market is a reflection of the economy. Over time this correlation is near 100%. A company's stock price is a reflection of the company's ability to grow. Companies can only grow as fast as the economy. Recessions beget bear markets. So be patient. So don't fight this brutal bear. In winter we wear a coat and patiently wait for signs spring. However, this spring might come later than normal.
What to invest in                                                                                                                                                                      If you have some cash, you might want to consider what "safehaven" gold has historically done. Gold has perennially followed the money supply. When the money supply increased from large federally spending from 1977-1980, gold appreciated 325% from $200-$850 and gold stocks all greatly gained in kind. In late 2007 gold rose 190% from $650 -$1900 when the Federal Reserve again initiated massive money printing in the form of Quantitative Easing (QE). Gold stocks like Newmont (NEM) subsequently  tripled from $20 to $62 even as the stock market crashed into 2008 and early 2009 and then recovered into 2011. As the stock market bottomed in March 2009, Newmont and other blue chip gold stocks continued their rapid rise. Newmont appreciated as the stock market lost 50% of its value and continued to rally even after the stock market recovered.
We are again at the same juncture as we were in 1976 and 2007. The Federal Reserve has initiated the largest stimulus in US history with a projected $6 trillion of printing of US dollars out of thin air. This bazooka blast of money will dwarf the last two previous stimuli. It will once again decrease the value of the dollar (making gold more valuable) as it dramatically increases the money supply. Gold has recently bottomed and has begun its ascent as the stock market has once again entered a bear market. Gold stocks appreciated last year and I believe are poised to continue to run  as gold once again starts its bull market run. Will gold and stocks appreciate 3-5 times  just as they did the last time the Federal Reserve primed the pump? Newmont and other gold stocks are projecting huge increases in earnings. Their healthy profit margins are expanding  significantly as the price of gold rises and their costs of production remain the same. Newmont and Kirkland (KL) just announced dividend increases as the rest of S&P 500 announces dividend cuts and earnings decreases. Gold and gold stocks are again on the launching pad and as the chart below indicates, they are very inexpensive in relation to the S&P 500. Something to consider.
As described above here is chart of what gold did in similar situations when the Federal Reserve massively primed the pump. From 1976-1980 gold rocketed from $200-$850 as the stock market experienced two bear markets and it appreciated from $650 to $1900 from late 2007 to 2011 as the S&P first lost 58%. My target on gold is between $4,300 and $6,200.  I am using $1,475 as a starting point which is where gold was after the current stock market dropped a breathtaking 33% and temporarily dropped gold and the gold stocks as  panicked investors sold gold to raise cash. It was the only currency everyone worldwide was willing to accept.
"ALL the smart money: Dalio, Druckenmiller, Tudor Jones, Zell, Gundlach, Singer, Klarman, Einhorn, Mobius (and some who I know are loading up but are doing it quietly) are long gold and understand the simple concept Hugh Hendry explains here. Question is: What are YOU waiting for?
 Tweet from 
Hugh Hendry Eclectica@hendry_hugh. 
"Today however, "if you fear inflation then you should buy more gold". It is simple. The Fed is trying to debase the $ to help the economy. Will it help? Maybe. Will it help the stock market? Probably. Will it help gold? Definitely. This is the final leg that I envisaged in 2002."
November 2019 update.                                                                                                                                                      Be Fearful When Others Are Greedy and Greedy When Others Are Fearful (Warren Buffett).                  If you are an individual, collar your portfolio like the pros collar their portfolios after this 390% S&P gain, 350% for the Dow Jones and incredible near 600% gain for the NASDAQ. Don't be too avaricious and get caught long equities when the bottom drops out of the stock market again as it suddenly did from September through December, 2018  lopping a quick 520 points (20%) off the S&P and a near 5000 points off the Dow from its highs before recovering when the Federal Reserve panicked and backed off its policy of raising (normalizing) interest rates and reducing the Fed balance sheet (Quantitative Tightening). The market didn't rally in 2019 on favorable corporate revenue or earnings prospects. S&P earnings were flat in 2019. It didn't rally on a better US  growth or GDP outlook. It rallied on continued easy money and massive monetary stimulus (Quantitative Easing-QE). Instead of raising interest rates 3 times in 2019 as it said it would, the Fed lowered rates 3 times. It also added $400 bil into the economy (stock market?) from QE stimulus and added $500 bil to support the,thirsty wobbly Repo market. The European ECB, Japan BOJ and China PBC also backed off normalizing their interest rates for fear of causing a recession. These four central banks have collectively added (printed out of thin air) over $24 tril of stimulus since 2009. They are afraid to stop medicating the stock and bond markets at while the economy is at full employment and all-time market highs for fear of a stock market crash and recession.
For the past 20 years, the Federal Reserve has been producing booms then busts in the economy. By artificially suppressing interest rates for long stretches, The Fed has unwittingly produced two stock market bubbles and a real estate bubble. They all ended in busts. The interest rate suppression for the past 11 years has been the most severe, the longest and has now produced  the greatest stock market (and bond market) bubble of all time.  This next bust looks commensurately like it might be the biggest one ever. Is your portfolio recession proof?
The same warning signs that appear before every equity bear market are evident now in 2019.         The stock market has never been this overvalued. Let me repeat that. The stock market has never been this overvalued. For example, the median price / earnings ratio for the stocks on the NYSE in late 2019 reached a record high (exceeding the peaks in 1929, 2000 and 2007). Moreover, median the price/sales ratio on the S&P (see chart below) has surpassed the toppy the 2000 market peak's all-time high as has the median EV (Enterprise value) / EBITA. This is a type of P/E ratio. Even Warren Buffett's favorite overvaluation indicator (stock market capitalization / GDP) is flashing peril. It likewise just topped its previous apex from year 2000, from which the stock market dropped 50% and the NASDAQ tumbled 80%. The Buffett indicator recently hit 150% – up from 57% at the depth of the 2009 recession. (Now that was the time to buy stocks!) At a 150% reading, the capitalization of the US stock market is 150% of US  GDP. A reading over 100% (it topped out at 105% at the market peak in 2007) flashes a warning sign. At a reading of 150%, the red lights and sirens are both on. Overvaluation can extend the perception of good future earnings only so far.  You can grow but you can't grow out of your own skin.
The market rallied 28% in 2019 on optimism from continued low interest rates and massive Federal Reserve stimulus, despite lower 2019 projections of US (and world) economic growth, lower GDP and flat corporate earnings. I would think that to not take at least some profits after this massive run, if it is not the ultimate expression of greed or stock market masochism, then it certainly is a selfish disregard for the well being of your beneficiaries or ultimate heirs.
It is not what you make, it is what you keep.                                                                                                            Why not hedge your portfolio now, take a pass on the next bear market and get back in 50% lower when there is real value. Buffett's billionaire partner, Charlie Munger, always preaches patience; patience to wait for value to exist; patience for months or even years for the right stock at the right price. Remember, the amount of the  gain you make from an investment is directly dependent on the price you pay. It is not what you buy, it is what you pay. Meanwhile, the Federal Reserve and world Central Banks are still trying to keep this vastly overpriced stock market elevated with stimulus talk. The analysts (salesmen) on CNBC are likewise trying to get you to bite at expensive equities while corporate America is lowering its future earnings and the US and world economies are lowering their growth prospects and GDP numbers.
In addition to over optimistic income statements, corporate balance sheets are also top heavy. Corporations (and consumers) have loaded up with considerably more debt than at previous market tops. As profits slide and interest rates rise, corporate treasurers might find it difficult to not only make their  current interest payments but also refinance at higher rates. We don't know the exact catalyst that will end this bull market but we do know it will end. The last three similar stock market bubbles that exhibited these blazing warning signs all ended in crashes.
It is not what you buy but what you pay for it.                                                                                                           The S&P is historically overpriced now as these common value ratios reflect an all-time bubble high valuation.
If this is the start of another, cyclical bear market, we have a long way to go before it bottoms. It is not too late to protect your gains now with near free portfolio insurance. It is a "heads I win, tails nothing happens" strategy. Why put yourself into a position of waiting 5-6 years after the bear market has ended for your equities to rally back in order to recoup your losses ? Why be greedy? Why not lock in the profits in some or all of the appreciated stocks or holdings in your portfolio? Why not take some risk off the table after a stock market that has risen four fold (some stocks even more) since March, 2009. You can hedge your portfolio while keeping your dividend income and without paying hefty capital gains taxes on your big winners with an option collar strategy. Hedging your winners on your terms at this lofty market level, especially if you are near retirement, is certainly better than watching your profits erode and perhaps selling later when nice gains turn into losses and become too painful to stand.
Friends Don't Let Friends Buy and Hold.
Recovering from a 20% loss requires a 25% gain
Recovering from a 30% loss requires a 43% gain
Recovering from a 40% loss requires a 67% gain
Recovering from a 50% loss requires a 100% gain
Recovering from a 60% loss requires a 150% gain
Asked how he got so rich in the stock market, Baron Rothschild said, "I will tell you my secret if you wish.  I always sell too soon."                                                                                                                                       Many investors overlook the fact that stock market cycles echo the upturns and downturns of economic cycles. Since US companies are a direct reflection of the economy over time their stocks will track the economy with a 100% correlation. It has been over 10 3/4  years since the last equity bear market (recession)- the longest bull market (recovery) in US history. We are overdue for a correction. Most investors forgot that the 2008-2009 stock market decline saw 12 years of gains disappear. How many years of profits are you willing to sacrifice?
Stock markets rise like an escalator, but fall like an elevator. Once an investor realizes that the market peak is in, it is too late. The 2018 year end sell-off lopped off 20% from the peak highs before recovering. FAANG and NASDAQ stocks suffered more. Currently, although the US consumer sentiment is optimistic, CEOs are pessimistic and fear a recession next year. Remember, the stock market is a forecasting tool of the economy. By the time the country is in a slowdown or recession the stock market will have already sold off and entered a bear market. As the economy weakens there will be more investors rushing to the elevator. Not everyone will be able to sell their stocks at the price they had envisioned.  Take some market exposure off the table. Do not forget the Wall Street adage: "the public buys the most at the top and the least at the bottom."
If you are an investment firm, be a hero. If you are an RIA, step up to the plate. Accept your fiduciary responsibility and protect your clients' gains after this lengthy, record 10 3/4  year run and over four fold increase. Don't let your customers' profits and retirement savings slip away due to shortsightedness. Do you think the stock market owes you an automatic 7% return in 2020 after a record 390% increase over the past decade? Market averages always revert to the mean. What is your greatest risk, to forgo a 5-10% advance or experience a 50% downturn?  Conventional wisdom is always bullish at the top of every market cycle. What is your risk tolerance?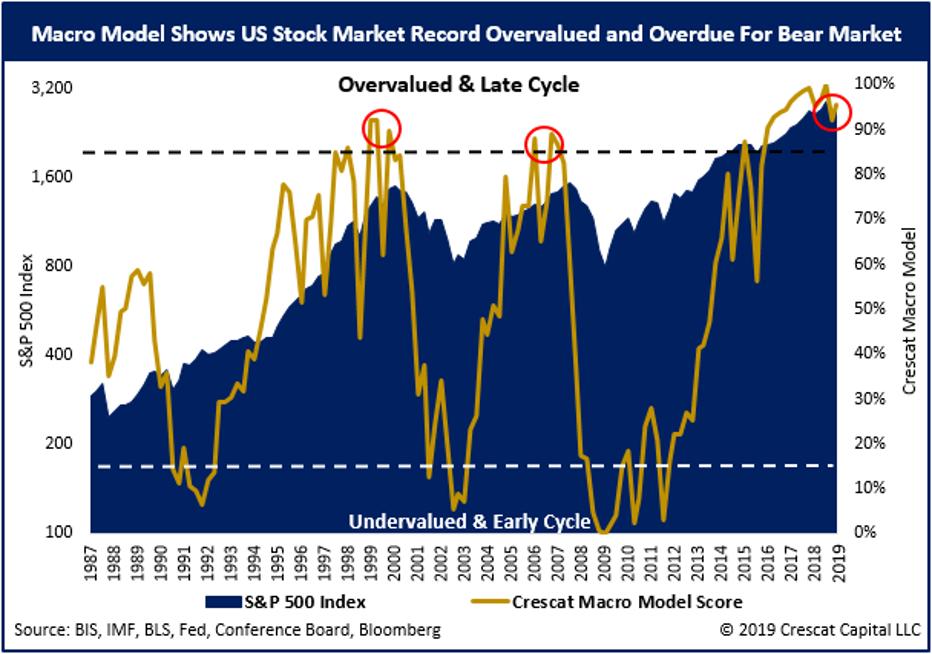 The last two bear markets extracted 50% and 58%, respectively from investors gains, as the chart above illustrates:    March 2000 to October 2002,   S&P 500 high: 1553 – Low: 776,    S&P 500 Loss: 50%,   Duration: 31 months;      October 2007 to March 2009,   S&P 500 high: 1577-   Low: 666,   S&P 500 loss: 58%,     Duration: 17 months
"Advisors are continually focused on adjusting client portfolios for maximum return while also managing risk.  But is the same true for how they manage their own 'wellness' portfolio? In late 2017, FlexShares surveyed more than 700 financial advisors on their own perceived wellness. They were queried across a variety of criteria.  The survey reveals   that advisors are stressed – 25% more stressed than the average American." Now that the stock market is in bubble territory. a correction as general interest rates eventually rise and the Central Banks QE (Quantitative Easing) becomes less effective, advisor and PM's stress levels will be rising even more.  Advisors are responsible for the safekeeping the millions of dollars of gains that their clients have accrued.  Clients cannot sue you for being too conservative.  Advisors' quest should be one of preservation of capital rather than further small gains.
"Barron's" magazine has often suggested the use of option collars. Those articles are on this website in the "Articles" section. A Zero Cost Option Strategy can provide a free (except for commissions) downside insurance for your portfolio.  Why take the risk of a totally uninsured portfolio at what appears to be another cyclical stock market top? You can hedge your portfolio, keep your stocks' dividend income and avoid capital gains tax. As "Barron's" magazine states "This collar strategy is almost too good to be true."
"When did Noah build the Ark, Gladys? Before the rain, before the rain."   —Nathan Muir (Robert Redford), in Spygame.                                                                                                                                                           Is it different this time? Will there never be an economic slowdown or bear market again?  The market indexes are still near their highest valuation ever. After 2000 years of economic history did Fed chairman Ponce de Bernank discover the economic fountain of youth? Can we just borrow and spend our way to prosperity? Can the world Central Banks simply suppress interest rates and print trillions of their fiat currency to support the world bond and stock markets without a disastrous consequence? There have been 19 recessions since the formation of the Federal Reserve in 1913. They have a terrible track record of "controlling" the economy. Central Planners always have. Can it possibly be that that the Fed's manipulation and suppression of interest rates create financial bubbles that, when pricked, cause longer and deeper recessions than the ones they were trying to prevent? You can't fool Mother Nature.
"What is right is not always popular and what is popular is not always right…" Albert Einstein.