1.    Is it time for another stock market correction? History says yes. All stock markets are cyclical.  They follow the business cycle, which, of course, is also cyclical. To believe that a  bear market will not occur on schedule is to pretend that Winter does not follow Fall. Brokerage firms parade their very educated representatives on CNBC all day telling you the bull market will last beyond its economic cycle. If a meteorologist with a PhD told you that because of the exceptional number of warm days in late Fall that Winter would never come again would you believe him? Winter is descending on the stock market and you better be prepared.
The average stock market sell-off after a bull market has historically been 36%. The last two market corrections have been 50% and 58% respectively. Will you be immune from the next cyclical bear market? The NASDAQ bear market from 2000-2003 lopped off 80%.  The current stock market rally has lasted longer than the prior 2003-2007 rally by 5 years  (and also lasted past all prior bull markets).  In a sense it is December 1st in New England and the temperature is a record 60 degrees. Is Winter postponed this year?   This Bull currently perches on the weakest economic underpinnings and past commensurate GDP in history. The world stock and bond markets today have 40% more leverage and speculation than in 2007 and their levitation is not supported by enough real assets or cash (M2).  The S&P lost 58% from top to bottom from 2007-2009. There is not enough liquidity in the system to let investors cash out any where near the lofty prices today. Look what happened when sellers stepped in this past quarter to sell the beloved, high flying NASDAQ stocks like Amazon and Apple? The buyers evaporated. When further selling commences during the course of this next cyclical bear market and equity owners search for buyers it will be like musical chairs as investors reach for bids to sell their stocks.
Look where we are the first week in February, 2019 in terms of overvaluation. We are more overvalued now than in 2000 and 1929. Those subsequent bear markets corrected the general stock market by 80% and 50%, respectfully (The NASDAQ was down 80% from the 2000 high).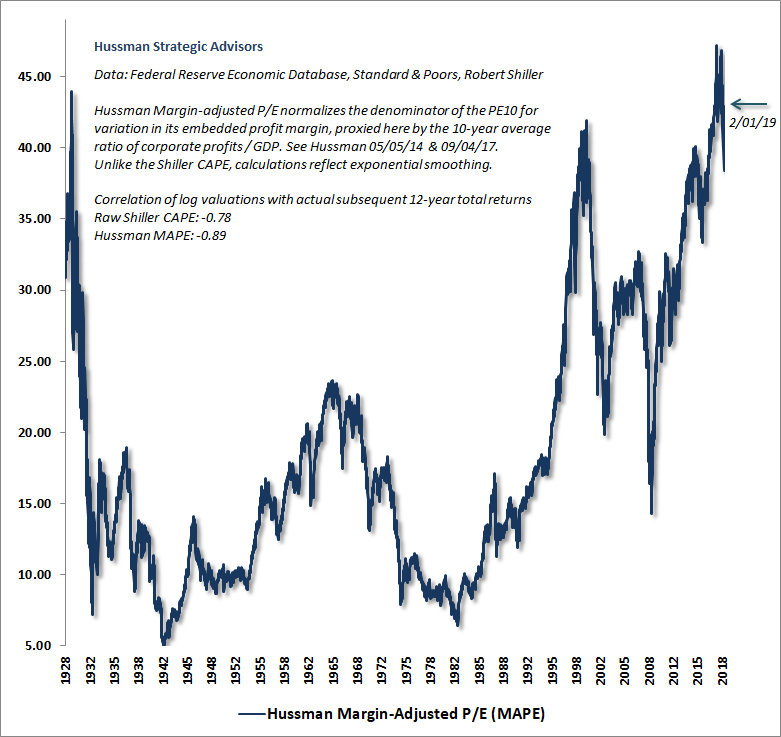 Stock market sentiment, a contrary signal, is registering historical bullishness and record low bearishness. Selling by company insiders has now reached the same levels of selling as in late 1987 and also in late 2007 and 2000, right before the S&P got slammed. Executives, board members and other insiders have sold record amounts  of stock this past year.  Do they know something we don't? The statistics for insider selling reported by Bloomberg news recently stated:  "According to data compiled by Bloomberg and Washington Service, American companies have seldom spent more money than they are now buying back shares. The same can't be said for their executives. The ratio of buys to sells is near the lowest since 2000.  'Insiders are very savvy about trading their stocks,' Jim O'Donnell, who oversees about $6 billion as chief investment officer at Forward Management LLC in San Francisco, said in a phone interview on Sept. 18. 'When you see the entire herd of insiders moving out, that's a powerful signal. They may be early, but they're always right.' "
We have now concluded the 9 3/4 years of this bull market which began in March of 2009 and is greater in longevity in consecutive up years than the three prior greatest bull markets of US history. We have already surpassed by 5 years the recent 2003 (March) - 2007 (Sept) bull run of 4 years 8 months.  We have exceeded the great bull of 1982 (Aug) -1987 (Sept) - 5 years 1 month.  The historic  bull market of 1924- 1929 lasted 5 years and 3  months   We have also surpassed the powerful, technology led bull market  from 1995 (Dec 1994) – 2000 (March) run – 5 years 4 months. How much longer can we go on the fumes of Central Bank stimulus from extreme interest rate suppression and money printing (Quantitative Easing)?
The US stock market has never gone up more than nine years in a row.  The prior three runs that prevailed for five plus years all crashed. There have been only two other up periods of near 5 full years other than the current 2009- 2018  bull run;  One was the roaring twenties bull market from 1924 -29, when youthful America was furiously expanding, experienced a booming double digit GDP and huge growth amid record full employment. It ended in a market crash that took the Dow down 90%, which then took 24 years to recover. In the great modern 1995-1999 run, the US likewise experienced superb growth of near 6% GDP amid full employment. The year 2000 allowed Bill Clinton and Congress to claim an annual balanced budget due to such solid economic activity arising from the technology boom of internet inventions.  The S&P then corrected 50% and the NASDAQ corrected over 80%. The shorter, powerful 1982-87 bull market accompanied by double digit GDP growth almost made it five years before ending in the 1987 crash.
What is puzzling and exasperating for stock market historians is the US is not experiencing as powerful a GDP as during the prior bull markets.  We now have  a low consumer savings rate with much indebtedness, salaries for our college grads are at a slow pace to pay off their accumulated tuition debt and there is a great disparity between the wealthy and middle class.  This current stock market advance has been one for the record books and one day will meet the same fate as all of the others; perhaps a more dire fate as it does not have the past economic fundamentals to support it. Its under-girding is supported more by debt than by organic corporate revenue and earnings, a strong US (and world) economy or a healthy consumer. Billions in stock buybacks, raised from debt issuance), have artificially boosted earnings-per-share (EPS); $4 trillion since 2012 to be exact. The world is awash in more debt than ever. Consumer, city, state and government debt is the greatest in history. We have used debt issuance instead of internal growth to fund our purchases. Consumption today is future consumption denied. We are getting no help from rising prices either. The average US inflation adjusted wage has been flat for the past ten years and total inflation adjusted earnings are actually lower than the peak wages in 2007. We have all been sucked into saving too little and borrowing too much due to artificially suppressed interest rates courtesy of the Federal Reserve and other world Central Banks. They artificial extended the average four year business cycle under the guise of  preventing an economic slowdown for all citizens. But in reality, they widened the equality gap by lifting the value of financial assets such as stocks, artwork, luxury homes, collectibles, etc. to record extreme valuations.  The massive, trillions of dollars in liquidity the Central Banks produced was not distributed equally. Much of it jet propelled  the US stock market to a record 9 3/4 year long bubble.
US GDP since the recovery began in 2009 years has averaged a meager 1.9%, despite the recent 3%+ GDP posts from the tax cut. This is 40%-100% of the GDPs of past bull markets. Furthermore, this "fragile" recovery (as Ben Bernanke and Janet Yellen once described it) is still weak after trillions in stimulus resulting from adding over $3.5 trillion to the Fed balance sheet.   In the late 1920's and 1980's US GDP growth was over 10%. In the June, 2000 quarter GDP it hit 6.55%. In 2006 it registered  over 5%. Meanwhile,  GDP expectations by The Federal reserve for 2019 are not far above  2% despite the recent quarterly 3% GDPs. Another bad ending awaits this stock market when the liquidity ends, interest rates rise and reality sets in again.
As a Chicago resident, It would be nice to move right into Spring from Fall, wouldn't it? It would be perfect if our recent stock market gains would be intact forever and we would never have a bear market or economic downturn again. It would be wonderful if the stock market and business cycle were  eliminated forever.  But unfortunately, Winter has not been eliminated. Mother Nature will exert herself again. "Those who do not learn from history are destined to repeat it".
2.    "Defensive Sectors Are Not Much Help In Market Downturns!  Sy Harding May 9, 2014.
Wall Street's advice on how to prepare for possible market corrections has always been the same. No matter what happens to the economy people will still have to eat, drink, and take their medicines. So consumer staples, food, beverage, healthcare, and drug companies will do well even in economic and market downturns.  Also on the list are large solid companies with stable earnings, particularly those like utilities that pay solid dividends that should offset declines in their stock prices.
As one prominent brokerage firm posts on its website, "Defensive stocks represent necessary items, like food, gas and medicine, and tend to change very little with the economic cycle because consumers are likely to continue buying them even in tough economic times."
Defensive stocks currently recommended by Wall Street firms include the usual; Proctor & Gamble (PG), Kellogg (K), Coca Cola (KO), PepsiCo (PEP), WalMart (WMT), McDonald's (MCD), Johnson & Johnson (JNJ), Amgen (AMGN), Pfizer (PFE), and utilities companies.
However, investors need to be aware that while consumers will indeed have to continue to eat, drink, and take their medicines, and therefore continue to buy the products of those companies, in a market decline investors do not have to continue to value the earnings of those companies as highly as during an exciting bull market. Furthermore, they do not.
In the enthusiasm of a bull market investors may be willing to pay 20 times earnings for a stock, while in the throes of a serious market decline they will perhaps pay only 12 times earnings for the same stock. Thus, although a company's earnings may continue to grow, even 'defensive' sector companies see their stocks decline in value in a market correction.
For instance, in the 2000-2002 bear market, the recommended 'defensive' stocks included Alcoa, Bristol Myer Squibb, Citigroup, Coca-Cola, Disney, DuPont, Fannie Mae, General Electric, Home Depot, IBM, Merck, and WalMart. They plunged an average of 59% to their lows, worse than the Dow's decline of 38% and the S&P 500 decline of 49%.
The utility sector was also highly recommended as portfolio protection, since utilities are noted for paying high dividends. However, the DJ Utilities Average plunged 60% in the 2000-2002 bear market, more than the S&P 500's 49% decline.
In the 2007-2009 bear market, using ETFs as a proxy for the 'defensive' sectors, while the S&P 500 lost 50% of its value, the HLDRS Pharmaceuticals ETF (PPH) declined 43%, the Van Guard Healthcare ETF (VHT) plunged 42%, and the SPDR Consumer Staples ETF (XLP), fell 35%. Meanwhile, the dividend-paying DJ Utilities Index plunged 48%.
Those were severe bear markets. How do 'defensive' sectors perform in less severe 10% to 15% corrections? Let's look at their performance in the last one, the summer correction in 2011.
The Dow declined 16% in that correction. The VanGuard Healthcare ETF (VHT) declined 17%. The HLDRS Pharmaceuticals ETF (PPH) declined 14%. The SPDR Consumer Staples ETF (XLP) fell 10%. Meanwhile, the DJ Utilities Avg. declined 13%.
History seems to show that re-positioning a portfolio into so-called defensive sector holdings when risk rises of a market correction does not provide much, if any, protection.
Is there a better approach?  Moving to higher cash levels to avoid losses would seem to be one. (I would add a put option strategy or an option collar). Keep in mind that a $100,000 portfolio that loses 50% of its value to $50,000, then needs a 100% gain to get back to even.
Currently, it's not surprising that with rising concerns of a possible correction this fall, investors have been piling into the touted 'defensive' sectors to such a degree that they are outperforming the market so far this year. As long as the market holds up they may be better than average holdings. However, history shows that investors preparing for a potential correction by piling into 'defensive' sectors, on the expectation that they will protect portfolios in downturns, are likely to be disappointed, to say the least."